Proposal for Pier 54
1997
Pier 54 lies off the west end of 14th Street in New York City. The plan for the pier begins by creating three zones: a secluded zone at the tip, an open zone facing the city, and a zone of passage through the bandwidth of the ray. This last zone becomes the Sun Shelter Video Arcade. The roof is derived from an oblique section taken through a sphere, becoming a technologically active surface featuring an arrangement of photovoltaic panels and glazing. The amount of power produced by the roof determines the quantity, scale and duration parameters of the video arcade.

Supports for the curved roof create box-like chambers with moveable screens, capable of attenuating space and light. The transformation of the chambers into a video arcade exploits the derelict exhibitionist character of its siting on the pier next to the meat-packing district. The space between both banks of chambers is continuously transformed by the panels, the sun and the videos. Outside, these chambers become both an entry and backdrop for exhibitions, performances and any personal transformations which may result at the confluence of sun, video and pier.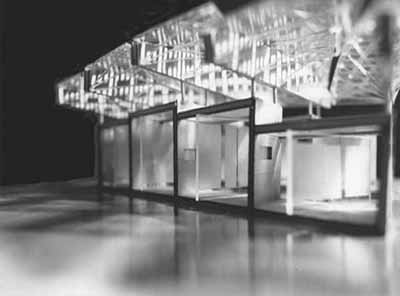 Night view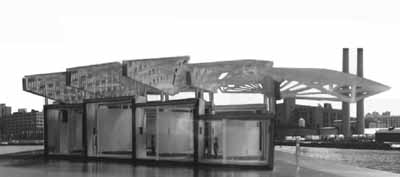 View from tip of pier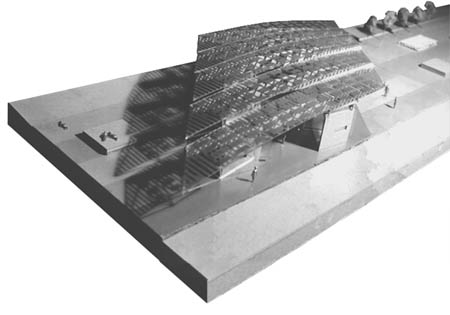 View of model