Proposal for Criminal Courts Plaza, Los Angeles
Competition entry, 1996
The Garden of Justice invokes the pre- and post- civilized landscapes of the Americas, ranging from the ancient superscalar inscriptions on the Nazca plains to modern civil and agricultural interventions. The transfer of violence from the human realm to that of landscape is seen as a means to isolate the primordial identity made between the individual and the state, to create a space occupied by considerations of justice. Following the competition brief, the Garden is sited in downtown Los Angeles in front of the Criminal courts Building and near the La Brea Tar Pits.

A four sided polygon is inset into the Courts Building Plaza, becoming the Garden proper and also serving as a terminus to a major pedestrian axis emanating from the northwest at the County Courthouse Plaza. The Garden is formed by subjecting the landscaping of the site to twin hypothetical catastrophes, biological and geological- DNA replication and seismic waves. A variety of local vegetation finds room to grow between the buckled plates and cracked surfaces.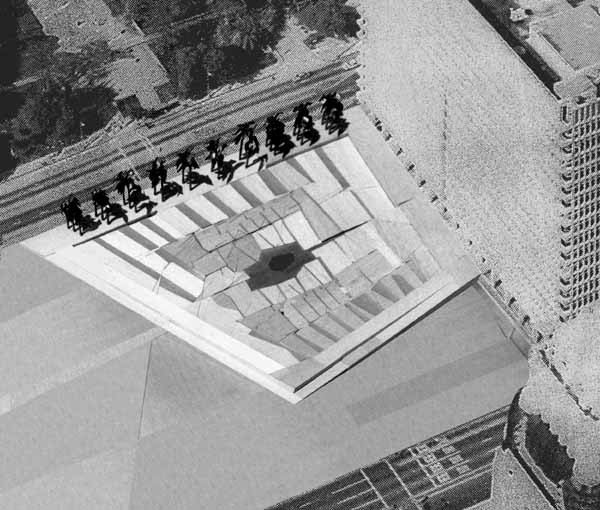 Arial view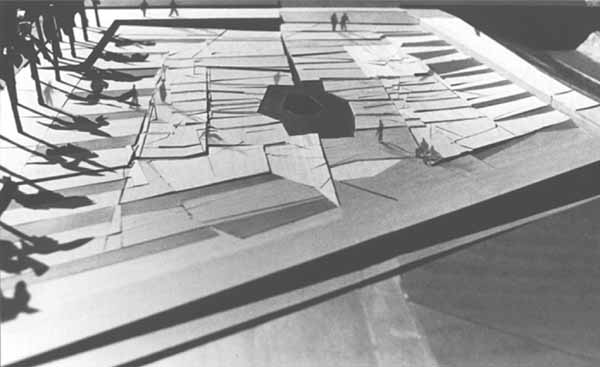 View of model
Sections Legend
A
Flowering Cactii:
echinocereus petalophus, echinopsis peach monarch, lampranthus aurantiacus, aloe suprafollata, opuntia macrodasys, opuntia violacae macrocentra
G
Low-Lying Flowering Succulents:
astrp hytum myriostigma, cephalophylium red spike, crasulae capitella, adenlum x arizona, acanthocalcium glaucum, adenium swazicum
C
Palm Trees
T
Tar Pit